...SHELTER FOR YOUR CARAVAN
CARPORT CAMPER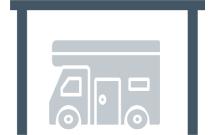 CARPORT CAMPER delivers covered parking space for caravans. It is suitable for all common types of motorhomes, you can choose from three basic sizes depending on the size of the caravan or motorhome it is designed to fit. The base is a covered aluminium structure specially designed to protect the motorhome from weather conditions such as rain, snow or direct sunlight. It provides shelter and helps extend the life span of your caravan. CARPORT CAMPER can stand solitary next to the house or can be attached at the same time to the wall of the building. The CARPORT CAMPER provides ample space for your caravan, but can also be a storage area. e.g. for other leisure equipment, like boats, quad bikes or e-bikes. But it also has another advantage and that is the provision of a convenient covered area for loading and unloading the caravan, storing equipment and carrying out routine maintenance. If you are interested in purchasing a CARAVAN CAMPER we will be happy to provide you with expert advice for your specific needs, help you choose the ideal size, evaluate and recommend the most suitable solution on site.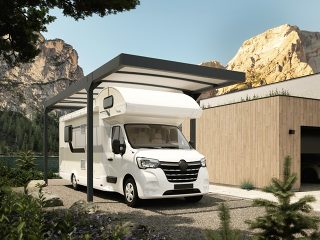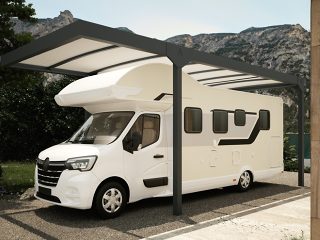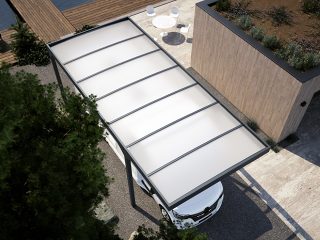 CARPORT CAMPER STANDARD – 3700 x 6550 x 3325 mm
Creates ideal covered parking space for small caravans. Protects the caravan paintwork from UV rays as well as the plastic elements, rubber elements and other sun-sensitive parts from UV radiation.
CARPORT CAMPER L – 3700 x 7623 x 3325 mm
Creates sufficient space for larger caravans or adds space to store additional leisure equipment. Vehicle protection its elements from UV rays and other influences weather.
CARPORT CAMPER XL – 3700 x 8695 x 3325 mm
A generous space where you can conveniently park and store everything you need. Your caravan will be well protected and also you will be able to carry out routine maintenance in any weather.
WHY CHOOSE CARPORT CAMPER?
Strong and stable aluminium construction made from aluminium profiles
Financially less demanding than building a standard garage
Roof made out of multi-chamber polycarbonate with UV stabilisation
Minimal maintenance
Protection of bodywork and glass from hail
Protection of the paintwork against bird excrement
Additional storage space
Rainwater collection for subsequent use for house and garden
No building permit required