CARPORT CAMPER SOLAR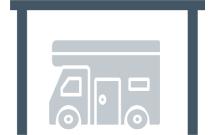 It is a multi-functional covered parking space for residential vehicles with the added function of generating clean solar energy. With its appearance and functionality, not only it serves as a shelter for
your RV but also serve as an aesthetic solar power plant. The Carport Camper Solar highlights the design of your house or solitarily support the appearance of a parking space. The entire system works
environmentally friendly and helps to reduce CO2 emmisions.
CARPORT CAMPER SOLAR 12
3700 x 6586 x 3402 mm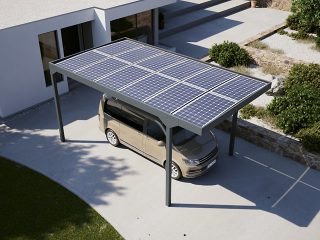 Power output: 4,44 kWp
Solar panel type: double-sided tempered glass), light transmission 12%
Emission savings CO2 ~ 2220 kg/Jahr
Snow load up to ~ 120kg/m2
Wind load up to ~100 km/h
CARPORT CAMPER SOLAR 14
3700 x 7665 x 3402 mm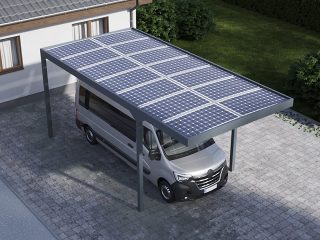 Power output: 5,18 kWp
Solar panel type: double-sided tempered glass), light transmission 12%
Emission savings CO2 ~ 2590 kg/Jahr
Snow load up to ~ 120kg/m2
Wind load up to ~100 km/h
CARPORT CAMPER SOLAR 16
3700 x 8743 x 3402 mm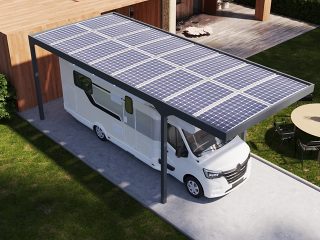 Power output: 5,92 kWp
Solar panel type: double-sided tempered glass), light transmission 12%
Emission savings CO2 ~ 2960 kg/Jahr
Snow load up to ~ 120kg/m2
Wind load up to ~100 km/h