Pool enclosure AZURE Flat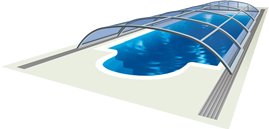 Uses advantages of multiple arch radius combination. The final effect is a flatter enclosure with lower height starting at 0,7m. This solution is great for people who need their enclosure not to break the landscape of their garden.
Filling: single chamber polycarbonate.
Aluminium profiles: available two colors - silver or anthracite.
Height of the enclosure: 0.70 – 1.05 m
Colour of construction

Colour of polycarbonate
Colour of sliding rails